Our response to fight Covid-19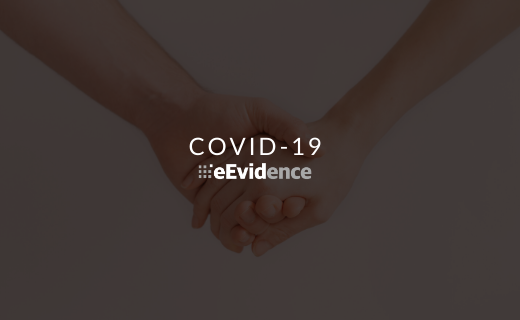 As Covid-19 is changing our lives, we are all witnessing a paradigm shift. These are difficult times for people and organizations, from healthcare professionals who are working against the clock to counter the effects of this pandemic, to self-employed, entrepreneurs and SMBs that are suffering the economic impact of the virus and are forced to make major organizational changes. 
At eEvidence we are making our registered email technology more accessible to those in need and we are joining the fight against the coronavirus through two initiatives.
2.466,15€ donated to Covid-19 investigations
In addition to medical professionals, our hearts also go out to everyone working tirelessly to find a cure for the Covid-19. With this hope in mind we have decided to support the #YoMeCorono investigations by donating 1 cent of a euro per registered email starting March 23rd. 
Until 10th of June, we'll make sure every registered email through eEvidence will be doing good to all of us. Together with our more than 10.000 users, we are joining this initiative led by doctors, researchers and leading healthcare organizations with the aim of treating infected patients and preventing the spread of the virus, as well as developing a cure for the disease.
We are providing real-time tracking information of our campaign in this website where anyone can check the volume of registered emails and the amount of our donation.
Update: 2,466,15€ donated, a big thank you to our customers!
We extend our registered email free plan
Now more than ever technology is playing a very important role, especially now in a scenario where professionals and companies are working 100% remotely and need to have all the necessary tools to continue with their professional activity.
Since its release, back in 2012, eEvidence has become very handy when in need to notify and send documents to third parties with a legal guarantee. This is more critical today than ever before, and for this reason we are extending our free plan to up to 100 registered emails per year for all new and current users, and we are offering with no limits our service to medical organizations that need to use during Covid-19.
Whether replacing standard email or certified fax, registered email has become an ally for many companies in the midst of the Covid-19 crisis, as it is the fastest, most effective and economical option to reliably prove any communication sent or received by email. Despite registered email has multiple use cases, it is now highly valuable when in need to notify labour adjustments such as temporary lay offs, new remote working policies, employment contracts and agreements, or manage commercial agreements, insurance policies, mortgage loans, among others.
Know someone who would be interested in this service? Don't hesitate to share this information, as she will appreciate it.
eEvidence remains 100% operational without any service interruptions
Last but not least, the team at eEvidence agreed to go home-working as early as March 12th. Our team safety was first, but we also wanted to make sure we would be ready to deliver our services without interruption, once remote working was to become no option. We are glad we did, as after more than a month since the lockdown began we remain 100% operational, offering a quality service with no interruptions. 
You stay safe, and let us take care of the safety of your notifications.
Thank you for your support.
***
PS: At eEvidence we will continue being committed to supporting those professionals and companies affected by this crisis and we encourage any organization that wants to join us with these or other initiatives to contact us.  Together, we can.