Send certified mail online: in less than 1 minute and for only 0,25€.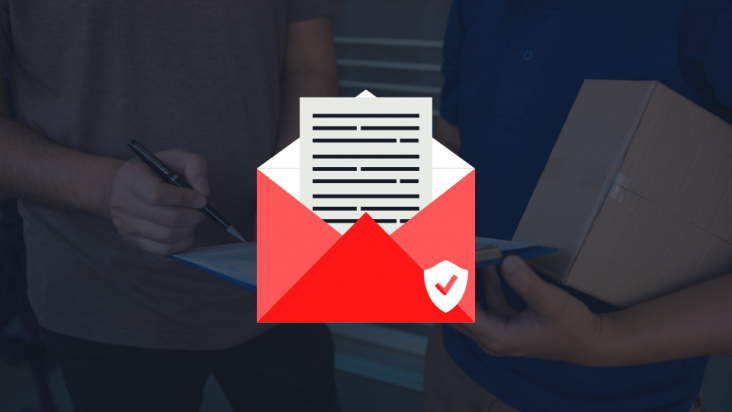 Certified communications such as certified mail, certified letter, registered mail, registered letter or burofax in Spain, are your best safeguards against third parties when it comes to proving the delivery of a message or documents in a reliable way, that is, with legal proof.
If you are looking to send certified mail online, eEvidence is your best option: it's easy, fast, reliable and inexpensive, since it allows you to send from only 0,25€ per notice with the same legal value as the classic registered mail.
Keep reading to learn how do send them step by step.
---
---
About eEvidence's registered delivery service
1. About eEvidence
eEvidence is an electronic registered delivery service that offers individuals and companies the possibility of sending certified communications with full international legal validity. Since 2012, more than 10,000 customers have trusted the service to securely send more than 60 million registered communications.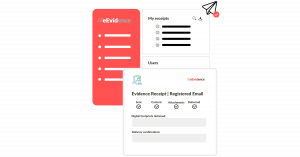 eEvidence relies on registered email as the channel for sending your messages – the digital equivalent of a classic certified mail. This has multiple advantages for you:
Easier and faster to send
Immediate certified delivery
Increased traceability (you're in full control: know if it has been sent, delivered and at what exact time)
Far more affordable (save up to +90%)
Legally valid and court-admissible in the United States, Canada, United Kingdom, Europe, among other regions.
Recipients cannot decline it deliberately, as it happens with certified notices in paper. eEvidence's patented method doesn't require the intervention of the recipient to certify email delivery, this is done automatically.
Invisible for the recipients: eEvidence's exclusive feature that allows you to register your messages without alerting the recipients, they receive an ordinary email.
Registered email has many different use cases, one of them being the digitization of traditional certified communications such as a certified letter.
2. How it works
eEvidence's method is very simple to understand and "similar" to sending a certified letter:
When you send a certified email, eEvidence takes care of sending it and certifies its delivery, acting like a courier or postal service. The recipient doesn't have to do anything, the registered delivery receipt is automatically issued.
Once delivered, eEvidence issues an electronic evidence receipt. This is a certified audit trail that contains all the data of the transmission of the message, the exact time on which it was sent and delivered, the exact content of the message as well as any of the attached documents. It's electronically signed and sealed to protect its integrity and verifies that the email and its contents have not been altered during transmission.
A few seconds later, eEvidence emails you a delivery confirmation with the delivery receipt (court-admissible evidence) attached and stores it securely for a minimum of 5 years in the cloud. Access and download it anytime, anywhere.
In case of a dispute or if you need to bring evidence in court, eEvidence's electronic receipt is the proof you need. Like a postal registered mail, a registered email by eEvidence legally proves content and delivery of a your communications with irrefutable evidences.

3. Legal value
Registered email is considered the online equivalent to the classic postal certified mail and is legally recognized across the globe. The evidence provided by eEvidence's registered delivery service has probative and evidentiary value and is court-admissible in most regions.
eEvidence complies with international regulations such as the ESIGN and UETA Acts (United States) or the Regulation (EU) Nº910/2014 (eIDAS). These ensure non-discrimination as evidence in court vis-à-vis paper equivalent.
Finally, you should keep in mind that eEvidence, as well as any other service, does not substitute the work of a legal professional, who will be able to provide you with legal advice, recommend the appropriate channel or help you draft your message and documents.
How to send certified mail online with eEvidence
If you are looking to send certified mail online, eEvidence makes it easy for you. This is how you can send them:
Sign up for eEvidence. We have multiple plans depending on the volume of registered emails you are planning to send. Our entry-level plan is 2,5€/month and includes 10 registered emails every month (0,25€/email). No commitment, cancel at any time.
Login to your usual email account, no matter if it's a Gmail, Hotmail or a business email account. Write the email as you normally do and attach any documents up to 50MB – that is around x2,5 times what Gmail allows. Good for you!
To send your email as a registered email, you just need to append the eEvidence wildcard – the extension: .eevid.com – at the end of each recipient's email address. I.e.: name@example.com.eevid.com
Hit the send button. Any time you need to send a registered email, you'll just need to repeat the process. You can even send multiple registered emails at once or automate the process as part of your transactional business emails.
After you send it, we'll deliver the message, issue the evidence receipt and email it to you within seconds.
All clear? Just in case, we prepared a 30-sec how-to video:
As you can see, the process is very simple, quick and anyone can do it. Even if you haven't sent an email in the last 40 years, you won't need much help.
Now that you've learnt that certified messages are much easier to send and cost-effective than you thought, it's time to try eEvidence. Save time and to 90% of sending costs, especially if you need to send large volumes of certified notices.