What Is A Registered Email And Why Is It Used For?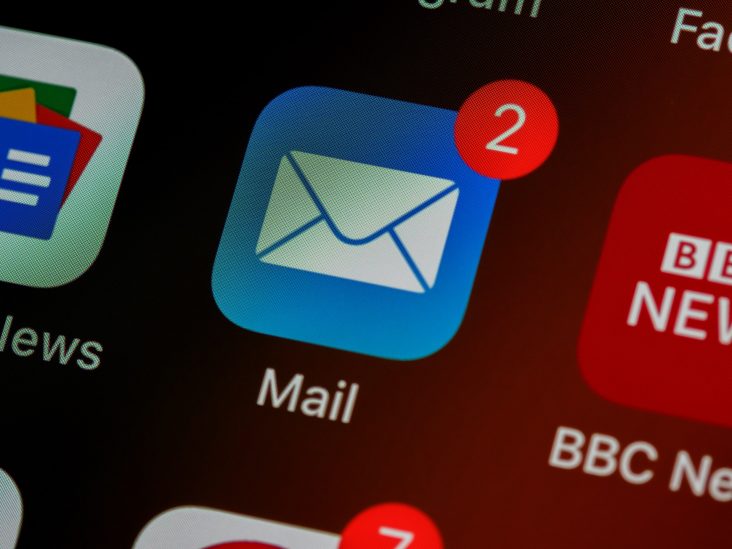 How many times have you heard someone say they haven't received an email? Imagine that there's an important message that has to be delivered at a specific time with sensible documentation. How can you prove, without a doubt, that you have actually sent it and that your recipient has received it, even if he or she denies it?
When it comes to important communications, individuals and businesses choose registered email over regular email to communicate safer and with legal certainty.
In this blog post, you'll learn everything you need to know about registered emails (a.k.a. certified emails), why you need them and how you can easily send a few (or millions) from your regular email account.
---
---
What is a registered email?
That's the most important question today!
A registered email, also known as certified email, is a type of communication sent by email that provides the sender with an evidence receipt that irrefutably proves the email has been sent and delivered to the recipient/s. It's the online equivalent to a registered letter.
Unlike a conventional email, when you send a registered email you are given an evidence receipt that proves you sent the email, its original content and attachments and the effective delivery to the recipient/s in real time.

Electronic registered delivery services like eEvidence make possible to send this type of emails. They attest to the communication, provide solid evidence related to data transmitted, including proof of sending and receipt, and protect the data transmitted against risks of loss, theft, damage or unauthorized alteration.
Understanding how it works is very simple: when an email is registered, a unique fingerprint (called "hash") is assigned, which makes it possible to verify the email and ensures that it has not been modified. When the email is delivered to the recipient's mail server, all relevant transmission data is recorded, including the standard response code of the recipient's server confirming that the email has been accepted and delivered.
Finally, the evidence receipt is issued as a PDF file and is e-signed and sealed to protect its integrity. It includes all the digital evidence collected during the email transmission process that shows who (sender) sent what (content and attachments), to whom (recipient/s) and when (exact date of sending and delivery).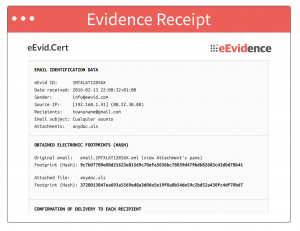 While a conventional e-mail can be disputed as reliable evidence because it could have been manipulated by one of the parties involved in the communication, registered email provides the solid evidence to prove the authenticity and integrity of an email communication. End of discussion.
Want to send a registered email? Click the banner below to access eEvidence for free:

Legal validity of registered email
A registered or certified email is a reliable communication that has legal recognition and probative value in a court of law in almost all countries. Here's why you can rely on it:
Internationally used and recognized. First of all, registered email is internationally acknowledged in most countries and is used intensively to prove millions of communications every day. In fact, eEvidence's registered email service is used by individuals and businesses worldwide to certify over +50 million emails.
Laws and Regulations. In most countries there are regulations that regulate and acknowledge the use of electronic registered delivery systems, such as the eIDAS Regulation in the European Union or the ESSIGN and UETA in the United States. Specifically, the Regulation (EU) No. 910/2014 of 23 July 2014 on electronic identification and trust services ("eIDAS") establishes a common regulatory framework that guarantees the admissibility of the evidences provided by electronic registered delivery services as evidence in legal proceedings.
«Data sent and received using an electronic registered delivery service shall not be denied legal effect and admissibility as evidence in legal proceedings solely on the grounds that it is in an electronic form or that it does not meet the requirements of the qualified electronic registered delivery service.» (Article 43.1).
Use of e-signature. Finally, the qualified electronic signature used to sign eEvidence's evidence receipts is also recognized and regulated in most countries of the world. International laws give this signature the same legal validity as traditional paper methods and handwritten signatures.
What is registered email used for?
Registered email provides legal certainty and probative value to email communications. It is used by both individuals and large organizations, who want to have reliable evidence to eliminate or minimize potential legal and financial risks they may face in the future.
As we cannot predict the future (yet!), it makes sense to use registered email as a preventive measure, just in case. In case of a dispute, a strong legal evidence of your email communications will grant you always have the upper hand. Use it in case in case authorities require prove of compliance or your recipients deny having received your emails.
Common use cases
Check out the list of common use cases:
Sending invoices, receipts, proves of payment sent (useful for fraud prevention:

 friendly fraud/chargeback)

Sending contracts, commercial agreements, termination letters, etc.

Sending pre-contractual information (insurance policies, loans, etc.)

Protect authorship of proposals/projects (IP rights protection)

Cancelling subscriptions, contracts, policies, services, etc.

Sending credit and debt collection notices, returns, defaults, late payments, etc.

Official communications to employees, suppliers, customers, partners, investors, etc.

Termination / lay-off notifications

Registering all customer service notifications, complaints, claims and incident cases (outgoing and incoming emails)

GDPR notifications, policy updates, express consent (

GDPR & DPO notifications

)

Legal notices in legal proceedings, communications between lawyers/attorneys, demand letters, claims, complaints, Privacy Notices, etc.

Calling the general meeting, board of investors, board of directos, etc.

HR communications between company and employees (notices, warnings, contracts, policies, etc.)

Corporate communications
Registered email as an alternative to a registered mail/letter
You may already know this or probably your lawyer has already suggested it, but registered email is a suitable alternative to traditional registered communications, such as registered mail / letter (sometimes called Burofax too), as it offers the same legal validity and has many advantages:
Faster: delivery is immediate as the communication is sent via email
Easier to use: no need to walk to a post office, you just need to send an email
Substantial cost saving: tradicional registered delivery systems are expensive (between 6 to 30EUR – similar in $USD or GBP) but registered email can be sent from just a few cents, in the case of eEvidence's service, to 1 EUR, in the case of other suppliers.
Recipient can't deny it: a registered email is considered as received the moment the email is delivered, so it's not possible to deny it deliberately, unlike it happens with traditional methods.
How to send a registered email (from your usual email account) in 35 seconds
Sending a registered email is a piece of cake if you use eEvidence's service. While other services force you to send the emails from their own application, with eEvidence you'll be able to send certified emails directly from your regular email account.
Learn how to send a certified email in 35 seconds:
If you prefer reading, here's the breakdown of the three steps:
Step 1: Register your email address at eEvidence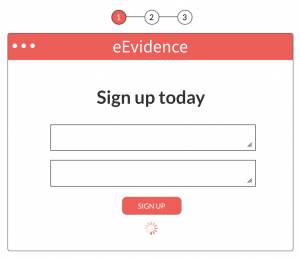 First of all, you need to register your email account with eEvidence. The reason is very simple: in order to register your emails, they need to flow to us during transmission so we need to have your email address identified to be able to do so.
Choose between our free plan (includes 5 registered emails per month) or our Scale plans starting at just 1€/month (including 20 registered emails and 5-year storage of your receipts, amongst other interesting features). Check these out here.
Step 2: Access your email account and add ".eevid.com" to the recipient's email address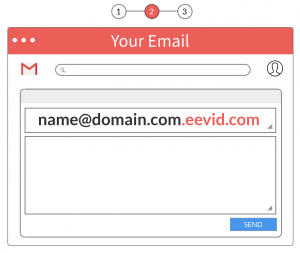 This is the most important step and also the simplest to do. When you access your email account, compose the email as usual and make sure to add ".eevid.com" to the recipient's email address before you send it. Just like the image shows. Once sent, your email will be delivered in seconds.
Warning: If you don't want your recipient to know that you are registering your email, you should sign up to our Scale plan as it has the option to disable the Registered-by notice that we embed in the email.
Step 3: Get your evidence receipt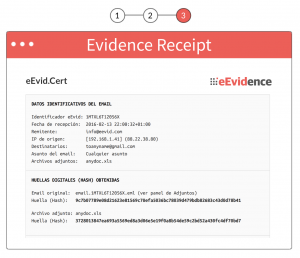 In a few seconds, we'll email you the evidence receipt that proves that you sent the email and that your recipient received it. The receipt is available in different languages and always contains a copy in English. In our Scale plan, we will also safeguard your receipts during 5 years and you'll be able to access and download them anytime anywhere. 

Why eEvidence is the best tool to register your emails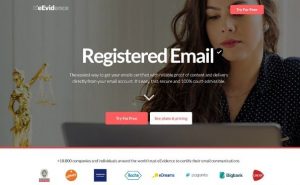 Easy to use
No matter if you need it only now and then or a million times a month, eEvidence allows you to send certified emails without headaches. We offer different methods to certify your emails: manually (the ".eevid.com" method) or automatically (by enrouting your emails using SMTP). You can easily connect eEvidence to your favorite email services, ERPs, CRMs or any other business softwares.
Non-intrusive
eEvidence is the only solution designed to be non-intrusive and protect you or your brand. To certify an email we don't need to involve the recipient in the process. Therefore, we give you the option to notify the recipient that the email is being certified or not, by showing a Registered-by notice that we embed in the body of the email. This feature is available in our Scale plans.
100% reliable
Our receipts provide 100% reliable proof and they are court-admissible, as we are compliant with the main international regulations like eIDAS, ESSIGN or UETA. This is why individuals and organizations all over the world trust us to send and register more than 50 million emails. And we are proud to work with all of them, including lawyers, banks, insurance companies, pharmaceutical companies, e-commerce brands, HR departments, IT geeks, etc.
Fair price
We believe everyone should be able to communicate safer. With that premise in mind, we designed our services so that anyone can easily access our technology for free or for a few cents per email. Don't worry if you underestimate or overestimate your needs, our Scale plans are also designed to be self-adjusting according to the real use you make.
To sum up
From now on before you send any email, you should think about what kind of information you are sending. Is it an important message for you or your recipient? Is it worth registering, just in case? Do you need proof of delivery or proof that you sent it?
In the greater majority of situations, it will be interesting for you to have your emails certified, especially when it comes to important communications such as complaints, contracts, policy updates, consent and data protection notices (RGPD), invoices, purchase tickets, online purchase confirmations, employee notifications and everything else you can imagine. By registering them, you can legally prove that you sent them and that they were delivered to your recipient.
Now you know that you can communicate safer, would you give it up? Of course not. So go to our registration page, choose the plan that fits best your needs and enjoy the peace of mind that eEvidence gives you.