Email Tracking: Email Read Receipts Are Not Reliable Proof To Certify Email Delivery
Technically speaking, there is no reliable way to prove that a recipient has opened or read your email. If there was a way, why does Google advise not to rely on read receipts for certifying the delivery of an email?
We're very sorry if we just broke your heart. We promise it'll get better. But think about it for a second: if you could prove that your email has been delivered, the point is not whether the recipient has read your email, but whether it is reasonable to believe that he didn't. Isn't it?
Lucky for you, there is a way to reliably prove email delivery, which should be enough proof for you. Keep reading to know how you can track and certify email delivery.
---
---
Why email read receipts are not reliable
Read receipts are part of the Message Disposition Notifications (MDNs) and exist since the late 1970′. However, they were not intended to prove delivery of an email to a person, but as a way, more or less reliable, of making sure that the few servers that were online at the time were up and running and that emails got to destination.
In fact, the Message Disposition Notification RFC 3798 is quite clear about the legal considerations of MDN messages:
MDNs may be forged as easily as ordinary Internet electronic mail and whilst they can provide valuable information to the mail user, they cannot be relied upon as a guarantee that a message was or was not seen by the recipient. Even if MDNs are not actively forged, they may be lost in transit.
Furthermore, Google warns us about the use of read receipts:
Do not rely on read receipts for certifying mail delivery. Although read receipts generally work across email systems, you may sometimes get a receipt for an unread message or not get a receipt even though the recipient has read the message.
Here's a practical example of what Google says: Imagine that you send an email that contains a tracking pixel – a very tiny image embeded in the email. Your experience tells you that when the recipient opens the email, the pixel will get activated and you will be notified. But what you don't know is that the email server of the recipient has the image preview function disabled, so when the recipient opens the email, the pixel won't be activated. Ta-da!
The difference between "opened" and "read"
Finally, there's the difference between an email being opened and an email being read. When an email has been opened it doesn't mean it has been read too.
In fact, nothing and nobody can prove that a person is reading your email. Even if you point a weapon to someone and make him read the email out loud, you won't get reliable evidence of the event. It'll always be your word against his. 🤓
The solution you need: a certified email with proof of content and delivery
If you are looking for a reliable proof that your email has been delivered to the recipient, then certified email a.k.a. registered email is all you need.
What is a certified email
A certified email is a type of communication sent by email that registers the transmission, content, attachments and delivery to the recipient and provides the sender with a legally binding evidence receipt.
The electronic receipt issued is an irrefutable proof that the email has been sent and delivered. It is often a PDF file that can be read in almost any device across the globe and it provides solid and reliable evidence that cannot be disputed. Plus if you are ever required to bring email evidence to a court of law or need to fight a dispute, this receipt will give you the upper hand.
Conventional email cannot be relied upon as it can easily be manipulated, this is why it is often declined as reliable evidence by juries. Instead, registered email helps you avoid disputes and legal and financial risks that could arise when recipients deny that you sent them an email or that they did not receive it.
On many occasions, you may want to consider registering your email send-outs especially when handling important communications like claims, contracts, policy updates, GDPR consent emails, payment requests or tickets, invoice confirmation emails, employee notifications and almost anything you can think of. By doing so, you'll be able to legally prove you've sent an email, and that it was delivered to the recipient.
How to send a certified email (from your regular email account)
Sending a certified email is a piece of cake if you use eEvidence's registered email service. No need to download or log into a special software, with eEvidence you'll be able to send registered emails from your regular email account.
Step 1: Register your email address at eEvidence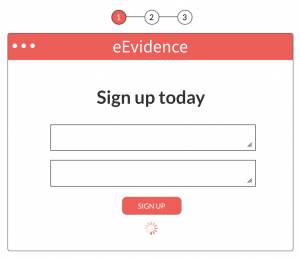 First of all, you need to register your email account with eEvidence. The reason is very simple: in order to register your emails, they need to flow to us during transmission so we need to have your email address identified to be able to do so.
Choose between our free plan (includes 5 registered emails per month) or our Scale plans starting at just 1€/month (including 20 registered emails and 5-year storage of your receipts, amongst other interesting features). Check these out here.
Step 2: Access your email account and add ".eevid.com" to the recipient's email address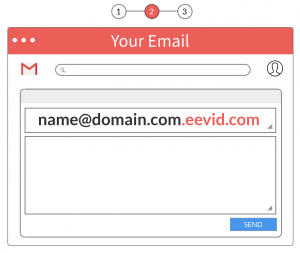 This is the most important step and also the simplest to do. When you access your email account, compose the email as usual and make sure to add ".eevid.com" to the recipient's email address before you send it. Just like the image shows. Once sent, your email will be delivered in seconds.
Warning: If you don't want your recipient to know that you are registering your email, you should sign up to our Scale plan as it has the option to disable the Registered-by notice that we embed in the email.
Step 3: Get your evidence receipt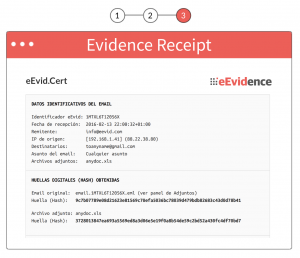 In a few seconds, we'll email you the evidence receipt that proves that you sent the email and that your recipient received it. The receipt is available in different languages and always contains a copy in English. In our Scale plan, we will also safeguard your receipts during 5 years and you'll be able to access and download them anytime anywhere. 

Why eEvidence is the best tool to register your emails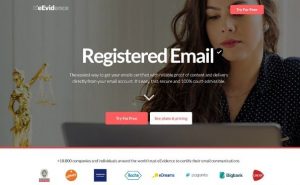 Easy to use
No matter if you need it only now and then or a million times a month, eEvidence allows you to send certified emails without headaches. We offer different methods to certify your emails: manually (the ".eevid.com" method) or automatically (by enrouting your emails using SMTP). You can easily connect eEvidence to your favorite email services, ERPs, CRMs or any other business softwares.
Non-intrusive
eEvidence is the only solution designed to be non-intrusive and protect you or your brand. To certify an email we don't need to involve the recipient in the process. Therefore, we give you the option to notify the recipient that the email is being certified or not, by showing a Registered-by notice that we embed in the body of the email. This feature is available in our Scale plans.
100% reliable
Our receipts provide 100% reliable proof and they are court-admissible, as we are compliant with the main international regulations like eIDAS, ESSIGN or UETA. This is why individuals and organizations all over the world trust us to send and register more than 50 million emails. And we are proud to work with all of them, including lawyers, banks, insurance companies, pharmaceutical companies, e-commerce brands, HR departments, IT geeks, etc.
Fair price
We believe everyone should be able to communicate safer. With that premise in mind, we designed our services so that anyone can easily access our technology for free or for a few cents per email. Don't worry if you underestimate or overestimate your needs, our Scale plans are also designed to be self-adjusting according to the real use you make.
Want to give it a try? Go to our registration page, choose the plan that fits best your needs and enjoy the peace of mind you deserve.