What Is Transactional Email: Examples and Best Practices
Just heard the words transactional email but don't really know what they mean? Looking for great examples of this type of emails to improve your emailing strategy?
In this article, we'll be exploring transactional emails. We're going to guide you through common mixups people have when trying to build them, show you different types of transactional emails, and share some best practices for when you begin creating your own. Enjoy. 
---
---
What is a transactional email?
A transactional email is a single email sent from one sender to one recipient, usually triggered by a particular action the recipient has made. They are also known as trigger emails. These emails are different from marketing emails. 
A company's transactional email service often consists of automated emails but is not part of a company campaign or sales push. It's also usually an email that people actually look out for in their inbox and confirms an interaction or subscription preference they've made online with your business. 
Why is a transactional email important?
These confirmation emails often contain information that the recipient needs in order to do something else, or they contain information that confirms an action. Receiving a transactional email could be disputed, especially if it's in the recipient's favor. For that reason, it's so important that your business can register transactional emails, and legally prove they've been sent and delivered.
We've all received a transactional email at some point, and we've all been thankful for it. It could be anything from confirming your flight booking, requesting a password reset, an alert about an abandoned shopping cart – whoops- or an address validation email when you sign up for eEvidence. ?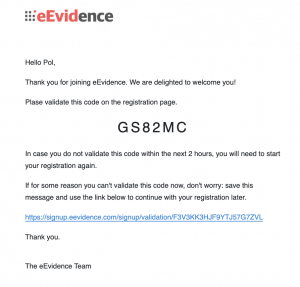 Whatever it is, it's important to the recipient, and hopefully it's a registered email for the company.
Why should I send a transactional email?
These transactional mails have a high open-rate and give your brand an excellent opportunity to build a trusting relationship with the customer. They're usually part of the service your company provides, hold legal weight, or are necessary for a customer's journey with you. 
In fact, 58% of companies are now developing strategies to deliver an integrated customer experience, and transactional emails are a huge part of that. 
What are the different types of transactional emails?
Believe it or not, there are many different types of transactional emails out there. They mostly depend on your business type. For example, Ecommerce brands will send a lot of abandoned cart or confirmed shipping transactional mail, whereas SaaS businesses will most likely send notification alerts, security updates, and user-specific emails. 
Let's get into the most common types of transactional emails best practices and examples you can use to inspire your own email strategy. 
Abandoned cart notifications

Booking/Order confirmations

Account creation, alerts or changes

Product or service feedback 

Event summaries and digests 
1. Abandoned Cart Notifications
These types of emails are most commonly sent from ecommerce businesses. Abandoned cart emails can easily be confused with marketing emails. However, they're transactional because they're triggered by a user's action- or lack thereof in this instance- and are only sent to one person at a time. 
All of these types of emails are also known as behavioral triggers. 
Abandoned Cart emails tend to tread a fine-line between transactional and marketing emails. They are best delivered when presented as helpful reminders that someone didn't complete their purchase. It's important they don't sound too sales or pushy. 
Examples of great abandoned cart emails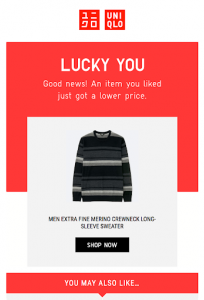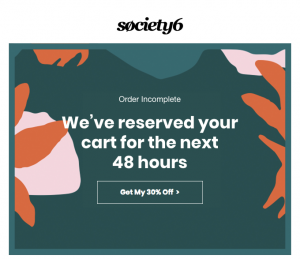 The two transactional emails examples by Uniqlo and Society6 you can see above are a great way of reminding someone of their abandoned cart while remaining useful to the receiver, providing value, and showing that you care about them. 
2. Booking/Order confirmations
Another common transactional email across all industries is booking or order confirmation- a type of email sent to notify users that their orders have been correctly processed. 
These emails often contain attachments such as tickets, invoices, receipts, or payment requests. As a measure to prevent future legal risks and fight friendly fraud, you can register these communications– certifying the email has been sent and delivered to the recipient correctly. This will cover your business for future disputes, and bring you peace of mind in your work.
Example of a good order confirmation email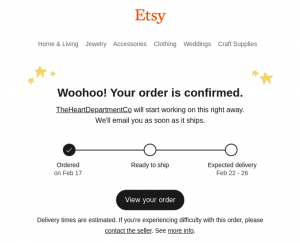 This order confirmation email from Etsy is a great way to give customers peace of mind that things are happening. The email has remained on-brand for Etsy, it's fun and friendly while being informative and reassuring- the best of both worlds.  
3. Account creation, alerts or changes emails 
Someone does not explicitly request these transactional email services, but they're still important to send and helpful for both business and recipient. 
Any information around account changes can warrant an email, and more often than not, someone will toggle their preferences for this within an account. These emails can be anything from password resets to updated contact information. 
A good thing to keep in mind for these types of emails is it's vital to get your brand name in the subject line or preview text; don't rely on the recipient noticing your brand name in the email address of the sender. 
Example of an excellent account alert email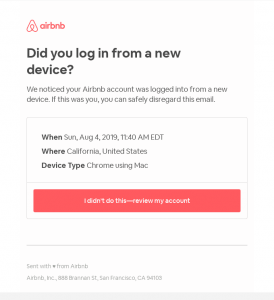 In this email from Airbnb, account alert emails are a fantastic opportunity to show customers you care, are aware of attempted fraud, and build trust with someone who has an account with you. They're a way of showing that you've got it all together. 
4. Product or Service Feedback Emails 
These transactional emails will come after a customer has received a product or received a service interaction from your business. 
More often than not, you won't offer anything in return for someone providing you with feedback- as that gesture can often taint their reply. Instead, emphasize the empathetic language you use within the transactional mail. 
Examples of excellent service feedback emails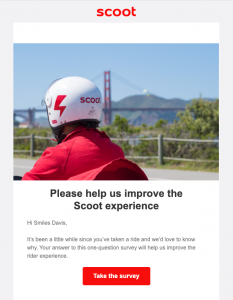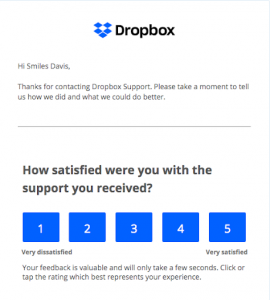 The two emails above are great examples of how you can use language and design to encourage customers to leave feedback via your transactional email service. 
The example from Scoot's email service uses genuine language, and politely asks the reader to improve the experience. The example from Dropbox begins with a simple click option on a satisfaction scale, which will take customers through to an extended survey- and they're already invested in leaving their feedback. 
5. Summaries and digest emails
We can't have everyone using an app; sometimes, we don't even have an app in the first place. One of an App's core features is to give your brand a complete and uninterrupted touch-point with customers. However, when we don't have this opportunity, we rely on email to provide "in-app" messaging. 
Summaries of events they've signed up for and missed, or changes to events that they've got coming up in their calendar are delivered in this form of transactional email. 
That being said, events don't always mean physical events, but triggers depending on someone's actions. This can be reports of weekly or monthly activity, rather than a one-off email every time a particular event happens. All of their activity with your brand can be wrapped up for them in a larger, more in-depth email. 
Example of a great summary email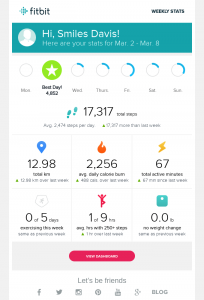 FitBit has done this well in the example above, and it would be a good idea to build out similar transactional emails templates for this type of send-out. FitBit has provided a weekly digest and used data throughout the week to create a more impactful email. 
These emails can be insightful for the recipient and remind them how they're using your product for them to justify paying for it.
Best practices for transactional emails
Now we've covered different types of transactional emails; it's time to dive into some best practices- most of which you should have noticed along the way.  
Provide Value

– Make sure every email you send brings some sort of value to the recipient.

Build Trust

– Use each transactional email as an opportunity to build trust. 

Personalize

– First names, last names, product interests, subscription plans, languages, whatever information you have on the recipient show it via personalization. 

Use Data

– Great for digests but other types of transactional mails too, use the data you have to make a more insightful email. 

Show you care

– Use humble language and be thoughtful with your messaging. 

Subject lines & Preview Text

– These are half of the content for any email, be smart with how you use them and the information you provide. 

Don't over-stuff

– Transactional emails provide a core piece of information, make sure you get that across first and foremost. 

Think: Design First

– The design of any email you send should reflect the experience you want to create with your product. Make sure it's smooth, user-friendly, and beautiful. 

Register them

– Legally prove your emails have been sent and delivered.
Why you should register your transactional emails, especially during the 2021 Holiday Season (Black Friday, Cyber Monday and Christmas)
Before you begin to build or enhance your transactional mailing strategy, take a moment to consider if you need these emails to be registered. What information are you sending? And what do you need to know has been received by your recipient?  
On many occasions, you may want to consider registering your transactional email send-outs by using a registered email service like eEvidence, especially when handling important communications like policies updates, GDPR emails, payment requests or tickets, and invoice confirmation emails. By doing so, you'll be able to legally prove you've sent an email, and that it was delivered to the recipient.
If you are planning to send high transactional email volumes, especially during the 2021 Holiday Season (Black Friday 2021, Cyber Monday 2021 and Christmas 2021), registering these emails will help you prevent and fight friendly fraud.
If you want to start registering your emails today, eEvidence is all you need. Check out plans here or try our free service. Now comes the ultimate test. If you were to sign up for an eEvidence plan, what type of email would we send you? Psst. See above. ?

Source of email examples: ReallyGoodEmails.